You are here
Tragic train accident in Milano for a broken rail: 3 killed and 46 injured
Primary tabs
Thu, 2018-01-25 08:08 - Mike Ciavarella
There has been a tragic accident in Milano.
2 / 3

Slide Show
Sec
Witnesses said the train trembled for a few minutes before the accident.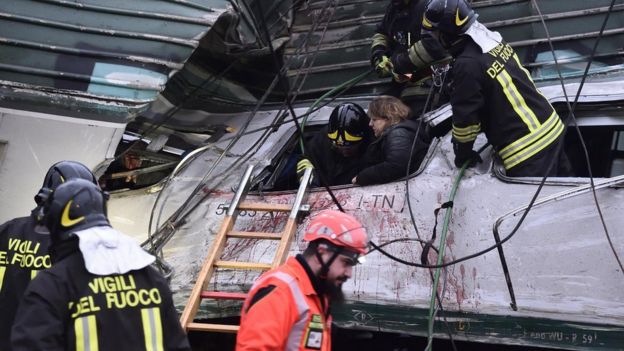 Image copyrightEPAImage captionFirefighters are battling to free passengers from the debris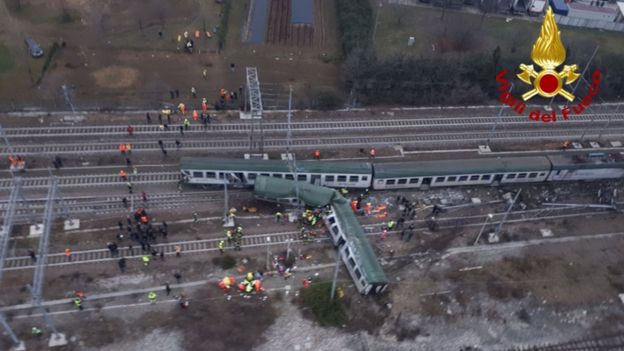 Image copyrightAFPImage captionThe train derailed at Pioltello Limito station
It looks very similar to the famous Hatfield accident, a rail had to be replaced, but maintainance arrived was late.
The rail that broke on the Cremona-Milan line was about to be replaced. In that stretch, maintenance work was under way. This is proved by a photograph taken exactly at the point where the breakdown occurred, a couple of kilometers before the one in which the train has broken down. At that point a piece of rail about twenty centimeters is missing. Next to the track, the section of new track that was supposed to replace the old one and for which maintenance work was under way. According to a first reconstruction, the dynamics should be this: the rail yields to the passage of the first carriages, but those that leave the tracks are only the central ones. The train continues its journey, but the central carriages now have their wheels off the track. Two kilometers later they cross and it is the real derailment.
Fatigue and maintanance of railways are still a big unsolved problem.   It is all very empirical, since the times of Ken Johnson attempts of using "ratchetting" plastic model, there has not been too much progress --- in fact the early very good agreement with experiments of models of Merwin and Johnson have later been discussed by Ponter et al to be oversimplistic, and later models by Kapoor based on Tyfour experiments are also very empirical and based on not enough data to be generalized. 
All the classical multiaxial fatigue criteria (DangVan etc) fail to show a good criterion under high hydrostatic compression (see Ciavarella and Monno), also because they do not take into account of wear. and those who have attempted to model also wear require a number of empirical parameters (see Kapoor , Donzella, etc.).
Maintanance strategies are safe?  The current measuring techniques of corrugation are really precise, and predictive of wear and fatigue?
We really need more investigation, and while the academic is looking mostly on graphene and other fancy topics, these old problems remain unsolved, and regularly a new accident kills people.
Ponter, A. R. S., Afferrante, L., & Ciavarella, M. (2004). A note on Merwin's measurements of forward flow in rolling contact. Wear, 256(3), 321-328.
Ciavarella, M., & Monno, F. (2010). A comparison of multiaxial fatigue criteria as applied to rolling contact fatigue. Tribology International, 43(11), 2139-2144.
Ciavarella, M., Monno, F., & Demelio, G. (2006). On the Dang Van fatigue limit in rolling contact fatigue. International journal of fatigue, 28(8), 852-863.
Afferrante, L., Ciavarella, M., & Demelio, G. (2004). A re-examination of rolling contact fatigue experiments by Clayton and Su with suggestions for surface durability calculations. Wear, 256(3), 329-334.
Donzella, G., Faccoli, M., Ghidini, A., Mazzu, A., & Roberti, R. (2005). The competitive role of wear and RCF in a rail steel. Engineering Fracture Mechanics, 72(2), 287-308.
Tyfour, W. R., Beynon, J. H., & Kapoor, A. (1996). Deterioration of rolling contact fatigue life of pearlitic rail steel due to dry-wet rolling-sliding line contact. Wear, 197(1-2), 255-265.
Afferrante, L., & Ciavarella, M. (2009). Corrugation models and the roaring rails enigma: a simple analytical contact mechanics model based on a perturbation of Carter's solution. Journal of Mechanics of Materials and Structures, 4(2), 191-209.
Afferrante, L., & Ciavarella, M. (2010). Short pitch corrugation of railway tracks with wooden or concrete sleepers: An enigma solved?. Tribology International, 43(3), 610-622.