You are here
Journal Club Theme of October 2015: Mechanics of Structure Genome
Wed, 2015-09-30 19:54 - Wenbin Yu
The aim of this post is to introduce the mechanics of structure genome (MSG) as a possible unified approach for constitutive modeling of structures and materials. Because this discussion relates with structural mechanics and micromechanics, two familiar topics which have been studied by many, it is difficult to cite all the relevant references in a blog post without missing important ones. Thus, I only share some general understanding of relevant topics which are available from typical textbooks. Nevertheless, I am eager to provide any reference needed to clarify any points which you think need more details.    
Structures vs Materials

Structures and materials often appear together and sometimes are used interchangeably. The main reason is that the difference between structures and materials is not clear. Our first solid mechanics course, usually called either strength of materials or mechanics of materials, mainly covers structural topics: rods, shafts, columns, beams, pressure vessels, etc. With the increasing capabilities of engineering microstructure of materials, the difference between structures and materials becomes even more elusive. One possible differentiator is the presence of boundary: the material itself has no boundaries, but rather may be considered as a material point in the structure. This point is certainly debatable, your insights will be greatly appreciated.
Structural Mechanics
Structural mechanics computes deformations, deflections, and stresses or stress resultants within structures. Despite the complexity of a system, the structure, such as the modern aircraft, can be modeled using one or more typical components as listed in Figure 1. If all three dimensions of a component are of similar size, it can be called a 3D structure; if one dimension is much smaller than the other two dimensions, it can be called a plate or shell; if two dimensions are much smaller than the 3rd dimension, it can be called a beam. Many models have been developed for these structural components. The classical ones are Cauchy elasticity for 3D bodies, Kirchhoff-Love model for plates/shells, and Euler-Bernoulli model for beams. Plate/shell models can be considered as 2D models because the unknowns are functions of the two in-plane coordinates and beam models can be considered as 1D models because the unknowns are functions of the axial coordinate only. To this end, beams/plates/shells can be collectively called dimensionally reducible structures as the models of these structural components are reduced from the original 3D model.
Figure 1. Typical structural components
Each model contains three sets of equations including kinematics, kinetics, and constitutive relations (see Figure 2), among which only the constitutive relations change for different materials used to make the structure. For composites, the stiffness matrix could be fully populated. The task to predict the constitutive models is usually called structural modeling. 3D properties in terms of Young's moduli, Poisson's ratios, and shear moduli, could be obtained either experimentally or through a micromechanics calculation. For isotropic homogeneous structures, 3D material properties are direct inputs for structural analysis using solid elements, and these properties combined with geometric characteristics of the structure can be used for plate/shell/beam elements with the structural stiffness obtained based on a priori assumptions such as the Euler-Bernoulli assumptions for beams. However, such straightforwardness does not exist for structures featuring anisotropy and/or heterogeneity. Many refined assumptions, such as higher-order assumptions, zigzag assumptions, layerwise assumptions, have been introduced to better capture the kinematics along the smaller dimensions of the structure, e.g. the thickness of a plate/shell. Formal asymptotic method (FAM) can be used to derive structural models by substituting an assumed asymptotic expansion of 3D displacements into the governing equations of the original 3D model. Variational asymptotic method (VAM) invented by Prof. Berdichevsky (currently at Wayne State) can also be used to derive structural models without a priori assumptions by performing an asymptotic analysis of a functional governing the original 3D model.  The VAM-based beam theory developed by Prof. Hodges and his co-workers has provided a rigorous yet practical tool called VABS for modeling composite blades in both helicopter and wind turbine industry. 
 Figure 2. Basic equations of the classical models for 3D bodies, plates/shells, and beams.
Micromechanics

Micromechanics focuses on creating an equivalent homogeneous material for heterogeneous materials with constituents distinguishable at the continuum scale. Usually a representative volume element (RVE) is chosen to describe the microstructure.  Its first aim is to predict the effective macroscopic properties of heterogeneous materials. This step is commonly termed homogenization, and many early models were developed solely for this purpose. Homogenization can be used either for virtual materials characterization, i.e., simulating the overall material response under relatively simple loading conditions, or constitutive modeling, where the complete set of effective material properties are computed as inputs for the structural analysis to predict the macroscopic behavior. The second aim of micromechanics is to predict the local fields, such as stress and strain fields, within the microstructure from the macroscopic behavior. This step is commonly termed dehomogenization or localization, and is critical for effectively evaluating the strength and failure of heterogeneous materials. Dehomogenization processes are usually more demanding than homogenization as the local fields are particularly sensitive to the microstructural details. 
Concept of Structure Genome

A genome serves as a blueprint for an organism's growth and development. When we use the word genome in non-biological contexts, it can be used to term a fundamental building block toward a larger purpose. According to this, we can define Structure Genome (SG) as the fundamental building block of the structure to emphasize the fact that it contains all the constitutive information needed for a structure the same fashion as the genome contains all the intrinsic information for an organism's growth and development.
SG for 3D Structures 
For 3D structures, SG serves a similar role as RVE. However, there are some difference, see Figure 3. For a structure made of a material featuring 1D heterogeneity (e.g. binary composites made of two alternating layers), SG will be a straight line with two segments denoting corresponding phases as one can mathematically repeat this line in plane to build the two layers of the binary composite, then repeat the binary composite out of plane to build the entire structure. For a structure made of composites featuring 2D heterogeneity (e.g. continuous unidirectional fiber reinforced composites), the SG will be 2D, and for a structure made of composites featuring 3D heterogeneity (e.g. particle reinforced composites), the SG will be 3D. The effective properties should remain 3D regardless of the dimensionality of SG because this is what is required for the 3D structural analysis. For example, for linear elastic analysis, one can obtain the complete 6x6 stiffness matrix from analysis over the 1D SG of the binary composite.  Clearly, SG uses the lowest dimension, thus highest efficiency, to describe the heterogeneity, while RVE dimension is usually determined by heterogeneity and what type of properties required for the structural analysis. A 3D RVE is usually required for obtaining the full set of effective properties for 3D structural analysis even if the material is not heterogeneous along all three directions.
Figure 3. Structure genome for 3D structures
SG for Dimensionally Reducible Structures

SG also allows direct connection with the analysis for dimensionally reducible structures. For example, the structural analysis of slender (beam-like) structures can use beam elements (Figure 4). If the beam has uniform cross-sections, the SG is the 2D cross-sectional domain as we can extrude the cross-section along the beam reference line to build the structure. This inspires a new perspective toward the beam theory, an important topic in structural mechanics. If we consider the beam reference line as a 1D continuum, every material point of this continuum has a 2D cross-section as its microstructure. In other words, constitutive modeling for beams can be effectively viewed as a specific application of micromechanics. If the beam is also heterogeneous in the spanwise direction, we need a 3D SG to describe the microstructure of the 1D continuum, the behavior of which is governed by the 1D beam analysis.
Figure 4. Structure genome for beams
If the structural analysis uses plate/shell elements, SG can also be chosen properly. For illustrative purpose, typical SGs of plate-like structures are sketched in Figure 5. If the plate-like structures feature no in-plane heterogeneities such as those assumed in lamination theories, the SG is a material line along the thickness direction with each segment denoting the corresponding layer. For a panel with heterogeneity in one of its in-plane directions, for example a sandwich panel with a core corrugated in one direction, the SG is 2D. If the panel is heterogeneous in both in-plane directions, such as a stiffened panel with stiffeners running in both directions, the SG is 3D. Despite of different SG dimensions, what we want out of the constitutive modeling is structural properties for the corresponding structural analysis (such as A, B, D matrices for the  classical plate theory) and  relations to express the original 3D fields in terms of the global behavior (e.g. moments, curvatures, etc.) obtained from the plate/shell analysis. We know that theories of plates/shells traditionally belong to structural mechanics, but the constitutive modeling of these structures can be treated as special micromechanics applications using the SG concept. For a plate/shell-like structure, if we consider the reference surface as a 2D continuum, every material point of this continuum has the SG as its microstructure. Beam/plate/shell theory constructed using the SG concept also provides a systematic way to handle buildup structures which are prevalent in engineering systems as long as they externally look like beams/plates/shells.
   Figure 5. Structure genome for plates
For periodic or partially periodic structures, it is easy to identify the SG as just described for 3D structures, beams, plates, and shells. However, for real structures which are aperiodic, it is up to the analysts to determine what will be the fundamental building block of the structure representative enough to obtain the constitutive relations, which is usually done in practice.
Principle of Minimum Information Loss (PMIL)

SG serves as the fundamental building block of a structure, no matter whether it is a 3D structure, beam, plate, or shell. For SG to not merely remain as a concept, we need to develop a theory necessary to govern SG so that there is a two-way communication between microstructural details and structural analysis: information from microstructure can be rigorously passed to structural analysis to predict the structural performance and information from structural analysis can be passed back to predict the local fields within the microstructure for failure prediction. We can develop such a theory using the principle of minimum information loss (PMIL) to minimize the loss of information between the original structure with microscopic details and the macroscopic structural model in the structural analysis. For elastic behavior, this can be achieved by minimizing the difference between the strain energy of the materials stored in SG and that stored in the structural model of structural analysis. It is noted that we use the term "microstructure'' and "microscopic details'' in a loose sense. Any details explicitly existing in SG but not in the macroscopic structural model are generally termed microscopic details in this writing. The basic idea of PMIL is briefly illustrated by deriving the classical plate theory starting from 3D elasticity showing in Figure 6. 
Figure 6. Principle of minimum information loss illustrated by deriving the classical plate theory
Discussions

MSG provides a possible way to unify constitutive modeling for structures and materials as SG enables the possibility to treat constitutive modeling for beams/plates/shells/buildup structures as special applications of micromechanics.   Note that the thought process of MSG is not new and is analogous to the idea of sub-structuring or super-element. MSG provides a rigorous approach to link models across scales based on the homogenization and dehomogenization concepts of micromechanics. As showing in Figure 7, a line element in the global analysis could respond to a box beam made of four laminated walls, a surface  element could correspond to a sandwich panel with laminated facesheets and corrugated core. MSG provide a rigorous approach to compute  the constitutive models for the line and surface elements based on the local structural details described by the Structure Genome.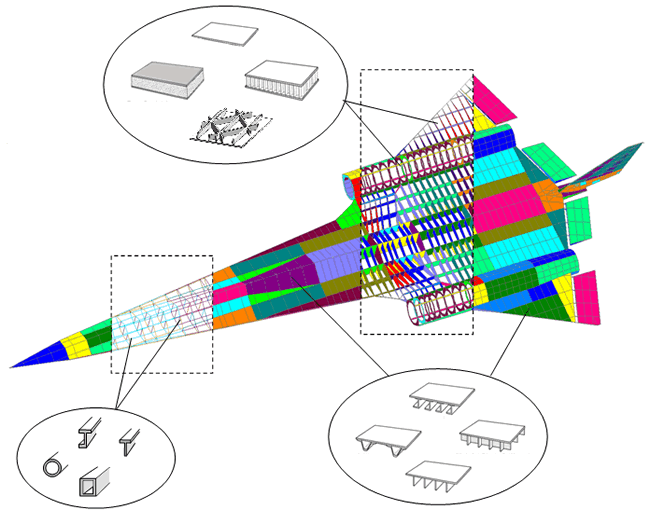 Figure 7: Sub-structuring for sizing a sample aircraft (Figure linked from Hypersizer.com) 
Many points presented above are certainly debatable and many of you have worked extensively in both micromechanics and structural mechanics. I am looking forward to your comments. MSG has been implemented into a general-purpose constitutive modeling code called SwiftComp, which is available in the cloud at https://cdmhub.org/resources/scstandard for interested users to try.

Reference:
1.     Yu, W.: "Structure Genome: Fill the Gap between Materials Genome and Structural Analysis," Proceedings of the 56th Structures, Structural Dynamics, and Materials Conference, Kissimmee, Florida, Jan. 5-9, 2015. (pdf)